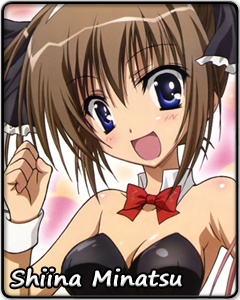 | | |
| --- | --- |
| Name: | Shiina Minatsu 「椎名深夏」 |
| Title Series: | Seitokai no Ichizon |
| Voiced by: | Togashi Misuzu |
Career ISML Performance
2010: 27th Place. Record: (23-0-26)

Moe Tournament Résumé
None thus far

Radiant, summery juggernaut.

Shiina Minatsu joins the student council and brings with her power. She plows through all trouble alike with sheer ferocity, be it eradicating the school-haunting ghosts, decimating rows of bullies or taking on more abstract council-related difficulties. You might try to stop her, but that's like adding fuel to the fire.

Her forte might be her physical abilities, but she's no slouch in maths either. These slightly contradictory interests are only a taste of her bipolar personality: she can often be seen blushing shyly moments after acting brash and her usual forceful behavior hides an innocent and pure heart. At first glance, she might appear boyish in character, but she also has a surprisingly girlish side to her.

Minatsu seeks new ways to unleash her overflowing energy, deals with her student council duties and always manages to find time to look out for her younger sister's well-being. She is a sweetheart really... but a competitor first.


Past Notable Matches

ISML 2010 Regular Season: (18th Place)
Amethyst 5: 1692-1680 over Akaba Chizuru (Seitokai no Ichizon)


Regular Season Schedule