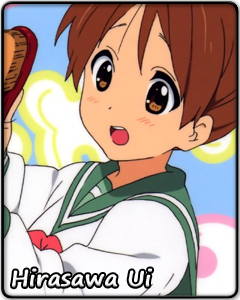 | | |
| --- | --- |
| Name: | Hirasawa Ui 「平沢憂」 |
| Title Series: | K-ON! |
| Voiced by: | Yonezawa Madoka |
Career ISML Performance
2010: 29th Place. Record: (21-0-28)
2011: 36th Place. Record: (13-0-36)
2012: 33rd Place Stella Division. Record: (3-0-32)
2013: 36th Place Stella Division. Record: (1-0-34)

Moe Tournament Résumé
Round 1 - Japan Saimoe 2009
8th Place - Korea Best Moe 2009
Round 1 - Japan Saimoe 2010
20th Place - Korea Best Moe 2010
Round 1 - Japan Saimoe 2011
Top 96 - Korea Best Moe 2012

The Hirasawa household is home to a pair of forever-absent parents (it is never too late for another honeymoon; long live youth!) and an older sister with the destructive potential of a demolition squad. But there's also Ui, so they will survive.

Ui mostly concerns herself with her school duties and keeping both her home and sister presentable and in one piece. The latter task, seemingly mundane, in fact requires heroic fortitude and a vast array of skills. Ui is, of course, proficient at cooking, cleaning and decorating the house. She never forgets to wake her sister up for school. She carries a hairbrush in her bag, knowing her sister will often forget to brush her hair in the morning rush. She buys fruit rich in vitamin C when the flu season comes. She... well, you get the point.

Ui is not only hard-working, but also exceptionally talented. When the need arises, she becomes a song lyrics writer overnight. She also learns the guitar in record time and takes her sister's place in a band while in disguise. What eventually gives her away is that she... plays too well.

For all those admirable qualities, Ui is still a normal girl with her own insecurities. It is easy to scare her, for example. She can also act silly sometimes. When her friends come to check up on her fever, she quickly leaps out of bed to prepare tea for them. But that's just simple hospitality, right?


Past Notable Matches

Korean Best Moe 2009: (8th Place)
Round of 16: 1466-1374 over Louise Vallière (Zero no Tsukaima)
Quarterfinals: 838-1342 to Nakano Azusa (K-ON!)


ISML 2010 Regular Season: (29th Place)
Diamond 6: 2175-2145 over Fate Testarossa (Mahō Shōjo Lyrical Nanoha)

ISML 2012 Regular Season: (33rd Place)
Emerald 7: 3261-3247 over Ichinose Kotomi (CLANNAD)

ISML 2013 Regular Season: 36th Place
Amethyst 7: 3768-3798 to C.C. (Code Geass)


Regular Season Schedule