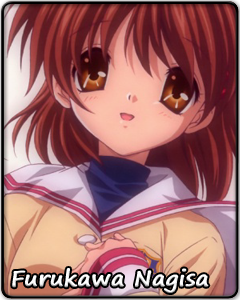 | | |
| --- | --- |
| Name: | Furukawa Nagisa 「古河渚」 |
| Title Series: | CLANNAD |
| Voiced by: | Nakahara Mai |
Career ISML Performance
2008: 22nd Place. Record: (42-0-0-21)
2009: 17th Place. Record: (46-0-0-17)
2010: 19th Place. Record: (31-0-18)
2011: 26th Place. Record: (23-0-26)
2012: 22nd Place Stella Division. Record: (14-0-21)
2013: 27th Place Stella Division. Record: (9-0-26)

Moe Tournament Résumé
2008: Animefans Saimoe Tournament - 4th Place
2008: Baidu Harem Moe - Round of 16
2008: Korean Best Moe - 12th Place
2008: Korean Super Best Moe - Round of 160
2009: Anime Saimoe Tournament - Round of 32
2009: Animefans Saimoe Tournament - Semifinalist
2009: Baidu Harem Moe - Round of 16
2009: Korean Best Moe - Round of 96
2010: Baidu Anime Saimoe Tournament - Semifinalist
2010: Baidu Harem Moe - Finalist
2010: Korean Super Best Moe - Round of 32
2014: Best Girl Contest - Round of 64
2014: Hongkong Golden Saimoe - Round of 48
2015: Best Girl Contest - Round of 512
2016: Best Girl Contest - Round of 256
2016: Hongkong Golden Saimoe - Round of 192

Nagisa is a girl with a simple dream – she wants to act in her school's Theater Club – and no idea how to go about realizing it.

Her complete lack of experience in the matter is not even the biggest obstacle in her way. The Theater Club has been closed down for years, and the student council has no intention on reinstating it. Neither does Nagisa have the guts to go around convincing them otherwise. She does not even have friends who could fill up the member quota for the club – she is repeating the year due to sickness, and all of her classmates have already graduated. Everything seems like a lost cause, and Nagisa, with her low self-confidence, quickly gives in to despair.

What saves Nagisa is a combination of good fortune and her sometimes unusual behavior drawing the attention of students with too much time on their hands. Indeed, some of Nagisa's self-motivation tactics are quirky to say the least – like her habit of calling out the names of various foodstuffs she will reward herself with for trying her best. She can also become surprisingly passionate about certain topics – like a children's show called The Big Dango Family. Nagisa attracts a group of supporters curious about how far this clumsy girl can get in her ambitions.

If it seems like things will go smoothly for Nagisa from then on, it's just an illusion. As it turns out, Nagisa has a habit of putting her own plans on hold when the situation requires her to help others. And with her growing social circle, the number of problems she gets involved with grows exponentially. On the one hand, Nagisa is very emotional and suffers the tragedies of others as if they were her own, often crying just from hearing a sad story. On the other hand, she helps those around her with strength and determination she never shows when dealing with her own problems. She even musters up the courage to act against her friends' will if it is for their sake.

There is a long way ahead of Nagisa, but when she finally graduates from her high school, she will do it much stronger, and with a group of new friends in tow.


Past Notable Matches

ISML 2008 Regular Season: (22nd Place)
Sapphire 2: 227-221 over Tsukimiya Ayu (Kanon)

ISML 2009 Regular Season: (17th Place)
Emerald 3: 1379-1356 over Ichinose Kotomi (CLANNAD)
Diamond 1: 1555-1528 over Kushieda Minori (Toradora!)

ISML 2010 Regular Season: (19th Place)
Amethyst 1: 2528-2573 to Holo (Spice and Wolf)
Sapphire 5: 2069-2065 over C.C. (Code Geass)
Ruby 3: 1994-1966 over Fate Testarossa (Mahō Shōjo Lyrical Nanoha)
Diamond 1: 2182-2172 over Izumi Konata (Lucky☆Star)

ISML 2011 Regular Season: (26th Place)
Aquamarine 7: 4540-4538 over Aragaki Ayase (Ore no Imōto ga Konna ni Kawaii Wake ga Nai)

ISML 2012 Regular Season: (22nd Place)
Emerald 7: 3356-3193 over C.C. (Code Geass)

ISML 2013 Regular Season: 27th Place
Aquamarine 3: 3542-3514 over Fujibayashi Kyō (CLANNAD)


Anime Saimoe Tournament 2008: (4th Place)
Group Finals: 1198-1047 over Yagami Hayate (Mahō Shōjo Lyrical Nanoha)
Quarterfinals: 953-891 over Kawazoe Tamaki (Bamboo Blade)
Semifinals: 922-1122 to Hiiragi Kagami (Lucky☆Star)

Korean Best Moe 2008: (12th Place)
Round of 16: 2622-3183 to Konjiki no Yami (To Love-Ru)


Regular Season Schedule